At Capitol Glass, windshield repair services are our specialty!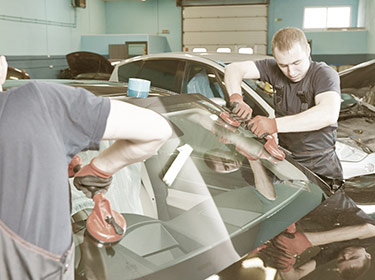 No matter how much we enjoy our jobs (or at least our paychecks), it's always challenging to listen to the alarm clock as we lay in our warm, comfortable beds. Once that alarm goes off, our rest is over, and it's time to start our daily grind. We have to get the children ready for school, and get ourselves ready for work. Not always easy, but it's something that we all have to do. Fortunately, this morning's traffic was actually moving. Unfortunately, it was moving just fast enough for the dump truck full of gravel in front of you to drop a loose rock directly on your windshield, leaving behind a crack.
Capitol Glass has been providing side window and sunroof repair, cracked windshield repair and all other auto glass services since 1950. We work on both foreign and domestic vehicles, and can perform most repairs while you wait. We're a volume operation, which allows us to keep our prices competitive, and we will be happy to work with you and your insurance company to minimize your out of pocket expenses.
Windshield chips and cracks are actually very easy and inexpensive to repair, but the important thing to remember is that you need to get them repaired right away before they spread. A small, seemingly insignificant chip in a windshield can easily turn into a much larger crack. Driving with a damaged windshield is dangerous, inconvenient, and against the law.
Is your windshield too damaged for you to come visit our shop? Are you too busy to take the time off work? No problem! We also offer a mobile auto glass repair service. You'll receive the same legendary customer service that you'd receive at our shop, and we'll have you back on the road in no time!
If you have any questions, or would like to schedule service, contact us online, or give us a call at 501-374-6422.