If you're too busy to visit our auto glass repair shop, we offer on-site windshield replacement services!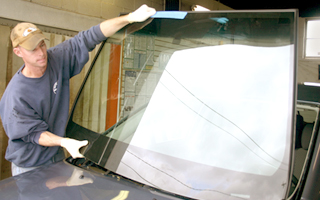 Capitol Glass has been a fixture in downtown Little Rock since 1950, and we offer the full range and scope of Arkansas auto glass repair services. We can easily fix windshield cracks and chips while you wait and repair or replace your side windows, sunroof, and mirrors. Appointments are always welcome but never required, and we offer lightning-fast service by the industry's most experienced and customer-focused auto glass repair professionals. But what happens if your windshield is too damaged for you to operate your vehicle safely?
Our mobile auto glass repair service is a popular option for customers with an auto glass emergency, and you'll receive the same level of service that our customers have been insisting on for decades. Just pull your vehicle off the road to a safe location and give us a call! We can come to you, and your vehicle will be road-worthy again in no time! We also offer non-emergency mobile service for busy professionals who can't take time off work to come to see us. We can service your vehicle at your home or your business, and you'll have a safe commute without having to deal with an obstructed view due to windshield damage.
Operating a vehicle on Arkansas roads with a damaged windshield is extremely dangerous, and it's also against the law. A small windshield chip or crack might not be enough to get you pulled over by the police, but it can easily spread if you don't repair it. And if money is tight, we certainly understand! We're a high-volume operation and do our best to keep our prices as low as possible. We bill all of our premium auto glass services according to standard labor rates, and we're happy to work with your insurance company to help you maximize your savings.
If you have any questions or want to schedule mobile auto glass replacement services, contact us online or at 501-374-6422. We've been in operation for three generations and counting, and we owe our success and longevity to lots of repeat customers. Our customers don't require our services all the time, which is why it's our mission to take great care of them each time they do!