Our Auto Glass Experts Can Restore Your Chipped Windshield to Like-New Condition!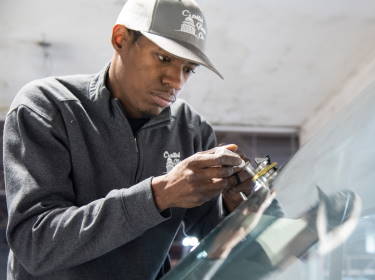 If you own an older vehicle, you probably have plenty of door dings and cosmetic damage that you've collected over the years. But you no longer have to make car payments, and the air conditioning still blows cold! Having said that, a chipped windshield or a cracked windshield is a very different story. Even a small chip or crack can develop into more serious damage, and you can't afford to take any chances regarding an unobstructed view of the road ahead. The good news is that Capitol Glass has a team of seasoned auto glass experts ready to restore your damaged windshield to its original condition while you wait!
We work on all makes and models of foreign and domestic vehicles and offer the full range and scope of auto glass repair services at great rates. Our shop is conveniently located at 8th and Broadway in downtown Little Rock, and you never need an appointment! We can help you with windshield repair and replacement, sunroof repair, side window repair, and side mirror replacement service. Our auto glass repair services are billed according to standard labor costs, and we accept all major credit cards and insurance plans.
It's dangerous to operate a vehicle with a damaged windshield, and it's also against the law. But we can restore your windshield to like-new condition for less than you think, and most auto glass repair jobs take less than an hour.
Are you too busy to visit our shop? We understand! We know that our customers have plenty of other responsibilities, and you don't have to wait for an emergency to schedule mobile windshield repair service. Just pull your vehicle off the road to a secure location and give us a call. We can service your vehicle at your home or workplace, and you'll enjoy an unobstructed view for your afternoon commute. You can expect the same legendary service customer service encounter from our mobile repair truck that our customers have come to expect at our shop since 1950, and we stand behind all of our work with a 100% satisfaction guarantee!
If you have any questions or if you would like to schedule mobile auto glass replacement services, contact us online or at 501-374-6422.