Our team of mobile auto glass repair specialists is always a phone call away!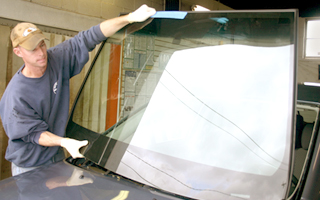 No matter what line of work you're in, time is a precious commodity. White-collar and blue-collar workers have some of the most hectic work schedules imaginable, and recent retirees often find themselves busier than they ever were at the height of their careers. The last thing most Arkansas motorists want to deal with is an auto glass emergency!
Capitol Glass has been serving Arkansas drivers since 1950, and we're proud to offer mobile glass repair services at great prices. We know how busy our customers are, and we're here to relieve the stress of scheduling windshield repair service. Get your car to a safe place and give us a call. One of our windshield repair technicians will be there right away, and your car will be street-legal again in no time! It doesn't have to be an emergency, either. We can come to your home or place of business at a convenient time, and you won't have to worry about taking time off from work!
We offer windshield repair and replacement services for all vehicle makes and models. We can also repair or replace your side windows, mirrors, and sunroof. Visit our shop at 8th and Broadway in downtown Little Rock at the first sign of trouble, and we can perform the repairs while you wait. If you only have a small chip or hairline crack in your windshield, come see us before it begins to spread. We can restore your windshield to like-new condition and offer same-day service. We bill for all repairs according to standard labor rates and are happy to work with your insurance provider to help you maximize your savings.
Companies like ours depend on repeat business and word-of-mouth referrals to survive, and we stand behind all of our services with a 100% satisfaction guarantee. We know our customers don't need our services all the time, but we're always here to help when they do!
If you have any questions or would like to schedule mobile auto glass replacement services, contact us online or at 501-374-6422.