We Offer Onsite Windshield Repair and Replacement at Great Rates!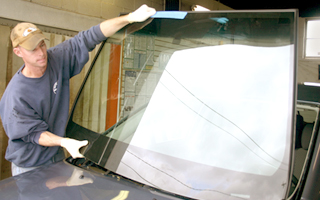 If you own an older vehicle, it probably has a few scratches and dings. No matter how defensively we drive, we can only react to other drivers when we're on the road. We also have no control over who parks next to us or loose shopping carts in the grocery store parking lot. Fortunately, our team at Capitol Glass offers Arkansas' most trusted mobile auto glass service!
We've been in continuous operation since 1950, and we're a full-service auto glass repair company in Little Rock. We offer rear and side window repair, sunroof repair, and side mirror replacement services, and we can service both manual and power windows. We also now offer Advanced Driver Assistance System (ADAS) calibration for newer vehicles. We bill for all of our premium auto glass services according to standard labor schedules, and we're happy to help you expedite your insurance claim.
It's against the law to operate a vehicle with a damaged windshield, and it's also dangerous. There's no such thing as cosmetic damage when it comes to auto glass, and small chips and hairline cracks can quickly become more severe damage. But our auto glass specialists are the best in the business, and we can restore chipped and cracked windshields to like-new condition as long as you bring in your car for service at the first sign of damage.
We service all makes and models of vehicles, and we can service both American-made and imported cars at our shop located at 8th and Broadway in downtown Little Rock. We also proudly offer mobile repair services. Whether you require roadside assistance or you can't afford to take time off from work, our mobile repair truck will be there right away. It's not quite as social as a trip to our shop, but you'll receive the same legendary service our customers have come to expect since 1950! We're a family-owned business, and we stand behind all of our auto glass services with a 100% satisfaction guarantee.
If you have any questions or would like to schedule mobile auto glass replacement services, contact us online or at 501-374-6422.