We've Been Arkansas' Leading Windshield Repair Specialists since 1950!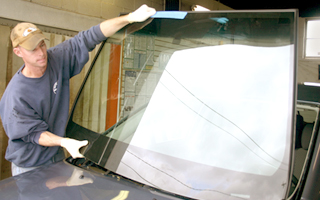 Americans have had a love affair with automobiles for over a century, and there was a lot of Detroit Muscle on the roads when we opened our doors in 1950. We've seen a lot of changes in the types of vehicles we've serviced at Capitol Glass over the years, beginning with a huge influx of foreign autos in the 1970s and the advent of the compact car. We're also at the forefront of electric cars and self-driving vehicles!
The cars have changed significantly over the years, but our commitment to legendary service hasn't and never will! Our shop is conveniently located at 8th and Broadway in downtown Little Rock, and we offer same-day service on most jobs while you wait. We work on all makes and models of foreign and domestic vehicles and offer the full range and scope of auto glass repair services. Our services include windshield repair and replacement, sunroof repair, side window repair, and side mirror replacement service.
Most Arkansans consider their fellow motorists to be some of the worst in the country, and The Natural State has hundreds of miles of roads in dire need of repair. Even the most conscientious drivers get into accidents; sometimes a chipped windshield or cracked windshield is inevitable. The good news is that we can restore your windshield to like-new condition in minutes, and it's more affordable than you think. Appointments are always welcome but never required. Our windshield repair services are all billed according to standard labor costs, and we accept all major credit cards and insurance plans.
A small chip or hairline fracture in your windshield might not seem like a big deal, but it can easily develop into more severe damage. Come see us at the first sign of trouble, and we'll have you back on the road in no time! We also offer mobile windshield repair service for our customers who can't afford to take time off of work. We can service your vehicle at your home or workplace, and you'll get the same legendary service that we've offered at our shop for seven decades and counting!
If you have any questions or would like to schedule mobile auto glass replacement services, contact us online or at 501-374-6422.