Our mobile auto glass repair specialists are always a phone call away!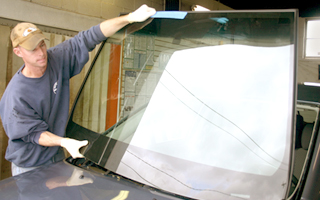 Central Arkansas is a community on the go, but progress always comes at a cost. We're all accustomed to traffic delays as work crews expand our roads and develop new infrastructure. It's easy enough to get a chipped windshield or a cracked windshield under normal road conditions, and your odds of windshield damage always increase when there's lots of loose gravel or asphalt around. Fortunately, our team at Capitol Glass offers Arkansas' most trusted mobile auto glass service!
We've been in continuous operation since 1950, and we're a full-service auto glass repair company in Little Rock. We offer rear and side window repair, sunroof repair, and side mirror replacement services, and we can service both manual and power windows. We also offer Advanced Driver Assistance System (ADAS) calibration for newer vehicles. Our shop is located at 8th and Broadway in downtown Little Rock, and we can perform most auto glass services while you wait. Appointments are always welcome but never required.
We service all vehicle makes and models, and we can service American and imported cars, trucks, and SUVs. We offer lightning-fast service at our shop and bill for all services according to standard labor schedules. We accept all major credit cards and will work with your insurance company to maximize your savings even if you have a deductible.
Operating a vehicle on Arkansas roads with windshield damage is never a good idea, and it's also against the law! But we offer mobile auto glass repair service and can come to you. Pull your vehicle off the road to a safe location and call us. Our mobile repair truck will be there right away, and you'll receive the same high-quality service that our customers have insisted on for seven decades and counting! It also doesn't have to be an emergency. Our mobile auto glass specialists can repair or replace your windshield at your home or workplace, and your vehicle will be street-legal again in no time!
If you have any questions or want to schedule mobile auto glass replacement services, contact us online or at 501-374-6422. We're ready to make you our next repeat customer, and we stand behind all of our services with a 100% satisfaction guarantee!